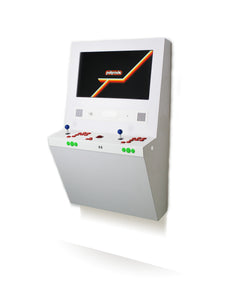 The V1 Polycade uses the same high quality hardware as our current models.
The main difference between V1 Polycades and the current version is the body of the Polycade V1 is constructed from plywood rather than steel, and painted with a lacquer rather than powdercoated.
Because it's made from plywood rather than steel, it is approximately 30% of the weight of the current model (120 lbs vs. 160 lbs) .
Polycade V1 ships with a plywood double cleat that mounts to the wall using four screws driven into studs. The screwholes are slotted so the cleat can be slid left or right prior to tightening. 

Other features of V1 Polycades that are no longer available in our current models:
2 x USB ports on face of control panel
3 x Front Start/Select/Coin buttons on face of control panel
2 x Pinball buttons on both sides of machine
1 x AUX port on front panel
1 x Volume knob on front panel